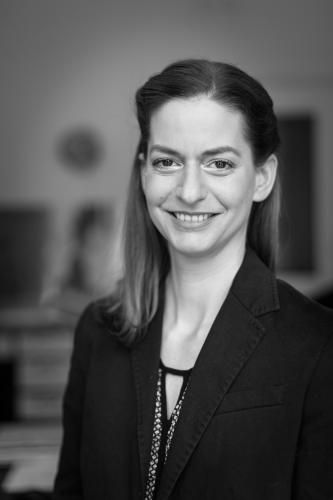 Conception, Programming, Organisation
Esther Krausz has been head of CREATIVE EUROPE Desk Austria- MEDIA since 2011. Located in the Austrian Film Institute, the Desk of the local consulting, information, and promotional office of the EU Programme supporting the European film industry. Services of the local film industry include creating awareness of the European context in which we are all working in through the facilitation of networking and cooperation opportunities around Europe, as well as consulting and promotion of the comprehensive MEDIA offer in the fields of funding, training, and networking.
In 2015, Esther has developed and managed ProPro – The Producers Programme for Women – An initiative of the Austrian Film Institute to Empower Women Film Producers, together with Ursula Wolschlager.
Esther has been a guest-lecturer at the lm-production colleges Krems, St. Pölten and Vienna on The European Film Industry, is member of the Austrian Advertising Council, and has been member of the media literacy Award jury in 2014.
Esther was workshop manager at EAVE, a networking and project development-training programme for European producers, and she has been involved in the local management of industry events such as the Producers Network and Producers Workshop at the Marché du Film of the International Film Festival Cannes. She has freelanced in film-production in various positions ranging from set-publicity to production management. She has worked in the marketing and PR-office of Twentieth Century Fox Austria (Dohr Werbe Gmbh), coordinating marketing and PR-strategies for the theatrical releases of TCF films in Austria.
Besides her mother-tongue German, Esther speaks English, French and Greek. She has completed a training in project management and holds an MA in Intercultural Competencies from Danube University Krems.
CREATIVE EUROPE DESK AUSTRIA-MEDIA | COMPANY PROFILE
After twenty years of the MEDIA programme for support of the European audiovisual industry, the new funding programme CREATIVE EUROPE combines the sub-programmes CULTURE and MEDIA. Support for the Europe- an creative industries is furnished with a budget of 1.46 billion euros for 2014 to 2020. 56 percent of this budget is dedicated to the MEDIA-sub-programme for the audiovisual industry. Funding schemes encourage players to operate across Europe, to reach new audiences, and to develop the skills required in the digital age. By helping European cultural and audiovisual works reach audiences, the programme contributes to safeguarding cultural and linguistic diversity. Political representation in Austria is under the competence of the lm department in the Austrian Federal Chancellery.