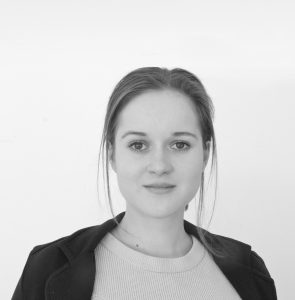 Research and Coordination
Klara Pollak studied cultural studies and art history and holds a degree in business administration from Vienna University of Economics.
In addition to her studies, she has been very active and involved in the cultural sector and founded various projects connected to art and music in Vienna.
In 2013 she joined the Witcraft Szenario team. Since then she has been responsible for production controlling, research, and coordinating pro- jects such as MADEMOISELLE PARADIS (script: Katharina Resetarits/dir. Barbara Albert), COMPLETELY OF TRACK (script: Nina Proll & Ursula
Wolschlager/dir. Sabine Der inger), and WE USED TO BE COOL (script & dir. Marie Kreutzer).
In 2016, Klara worked as a assistant to the producer for Witcraft's rst feature lm production, CAVIAR. Furthermore, together with the director Antoinette zwirchmayer, she realised her rst short lm as a producer, AFTER UTOPIA in 2016.
Since 2017 she has been working for Witcraft Filmproduktion as a junior producer.