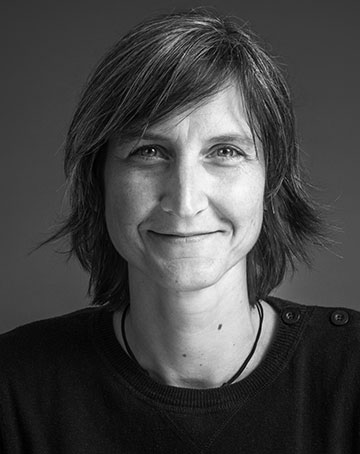 Producer, Acquisitions Consultant,
Festival Programmer, Swiss/France
Annick Mahnert studied film production at the NYFA and worked as a production assistant at Roger Corman's Concorde-New Horizons. Back in Switzerland, she went on to work in distribution and programming at 20th Century Fox, Warner Bros., Pathé Cinémas and Frenetic Films. She also worked at Maximage Filmproduktion as a production assistant, working on feature films and documentaries.
Early 2012 she moved to Paris to join the renowned sales agency Celluloid Dreams, handling sales and acquisitions. Since 2013, she is working as a freelance acquisitions consultant and festival programmer and was hired in November 2013 as Foreign Representative for the Market & Festivals department at Swiss Films, the promotion agency for Swiss filmmaking.
Mahnert is currently working on the production of Alexandre O. Philippe's 78/52, a documentary about the iconic shower scene in Alfred Hitchcock's Psycho and on Dearest Sister, Mattie Do's sophomore effort, shot in Laos in Spring 2015 and currently in postproduction.
 SCREEN DIVISION
 Created in 2009, Screen Division provides consulting in film acquisitions, negotiations and festival programming. The company also develops and produces film projects. Previous experiences include film distribution, film production, marketing and international sales.
Screen Division collaborates with sales agents, producers, distributors and festivals in Europe, the United States, Canada, South America and Asia.
In 2014, Screen Division launched a new partnership with the Tallinn Black Nights Film Festival in Estonia. The pilot project, called European Genre Forum, is organized in collaboration with the Night Visions Film Festival (Helsinki) and the Zagreb Fantastic FF (Zagreb). It sets to boost the careers of future players in the genre biz through a week of trainings, panels and pitching sessions in conjunction with Goethe-Institute's Creative Camp Tallinn.
 Screen Division accompanies selected projets through development and production, focusing on the film's international strategy from inception through to worldwide distribution from a creative and strategic standpoint.
In 2014, two films were seen through production, which premiered on the festival circuit in Autumn 2014: Dios Local (Fantastic Fest) and Mexico Barbaro (Sitges Film Festival).
IN DEVELOPMENT / PRODUCTION (selection)
2015: Achoura, Dir. Talal Selhami – in post-production
2015: 78/52, Dir. Alexandre O. Philippe – shooting
2015: Dearest Sister, Dir. Mattie Do – in post-production
2015: Tatewarí, Dir. Edgar Nito – in development
COMPLETED
2015: Tex Montana will Survive!, Dir. Jeremy Gardner
2015: June, Dir. Gustavo L. Cooper
2014: México Bárbaro, Dir. Jorge Michel Grau, Edgar Nito, Isaac Ezban, a.o.