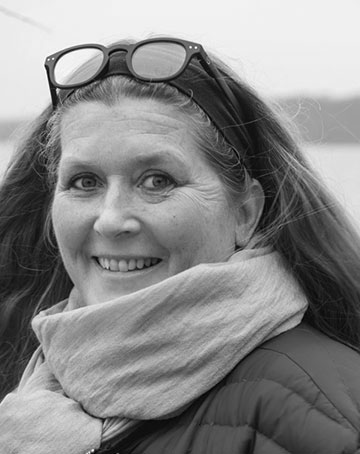 Producer, CEO Nordic Factory Film&TV, Sweden
Helene Granqvist has worked with film and television for more than 30 years. She studied Set Design at Statens Teaterskole (1984-1988) in Copenhagen and worked as a set designer all through the 1990's. In 2000 she co-founded the production company Good World AB (Good Film & Post), and began to work as a producer.
Since her time at Good, she has produced a dozen documentaries, as well as many short films, a number of feature films, a web TV channel, and a documentary TV series. She is frequently being engaged as a lecturer both in Sweden and internationally.
Helene is also very involved with WIFT Sverige (Women in Film & Television, Sweden), since 2013 as the president of the board.
In 2011 she founded the production company Nordic Factory Film & TV Sweden (previously DoDream) based on the vision of connecting ideas with resources, and the communication of sustainable values – socially, culturally, economically and ecologically.
Nordic Factory Film & TV

Nordic Factory won ARTEs Power to the Pixel Pitch Prize and MEDIAs European Talent Award with the project Granny's Dancing on the Table, that was premiered in Toronto and San Sebastian 2015. The short Listen has, since the premiere at Director's Fortnight in 2014, been in more than a hundred festivals and has won 20 awards. Among Best narrative Short in Tribeca 2015. Listen is also nominated to EFA and is now heading for an Oscar nomination.
Filmography (selection)
2015     Granny's Dancing on the Table (dir. Hanna Sköld)
2014     Push Me (Short, Executive Producer, dir. Tove Pils)
2014     Sundays (dir. Natalia Garagiola, Kræsten Kusk)
2014     The Girls and the Dogs (Guillaume Mainguet, Selma Vilhunen)
2014     Listen (Rungano Nyoni, Hamy Ramezan)
2014     Nordic Factory (dir. Milad Alami, Aygul Bakanova, Natalia Garagiola, Kræsten Kusk, Guillaume Mainguet, Selma Vilhunen, Rungano Nyoni, Hamy Ramezan, Selma Vilhunen)
2014     Void (Milad Alami, Aygul Bakanova)
2011     Tantlängtan (Short, dir. Hanna Sköld)
2011     Sent på jorden (Short, Executive Producer, dir. John Skoog)
2010     Superhjälten  (Short Executive Producer, dir. Csaba Bene Perlenberg)
2010     Kosten att cara människa (Documentary, dir. Helene Granqvist, Hampus Linder)
2009     Nasty Old People ( dir. Hanna Sköld)
2009     Födelsedag (Short, Executive Producer, dir. Jenifer Malmqvist)
2008     Backbone of Africa (TV Movie documentary, dir. Helene Granqvist, Hampus Linder)
2007     Papa's Kappsäck (TV Series documentary, associate producer, dir.Anders Granqvist)