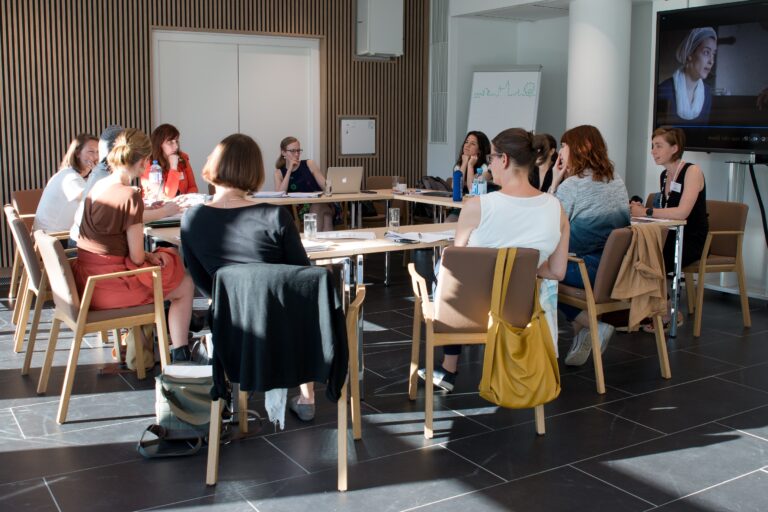 What's special about ProPro

ProPro is free of charge for the participants. This approach is substantiated by the fact that we see this initiative as a remedy for the industry's gender imbalance in numbers, funding and budget.
ProPro follows a "women only"- approach for most workshop elements, which creates an atmosphere of deep trust and openness. This is something many women producers miss in the industry, where they often feel they have to disguise themselves in a male-dominated atmosphere of boys' networks they can't participate in. The arrangement of a safe and open space amongst other women holds a certain deep relief for many women producers: Fresh topics are addressed and daring ideas can be expressed.
Mentors, as well as many experts of the programme,are being hand-picked for the individual needs of the participants and their projects. This way, every participant gets a highly personalized feedback from an expert for her project (in terms of genre or other referential points) that increases the chances of a successful career and lucrative projects considerably.
We have a pool of diverse mentors and experts and we pair each mentor up with a selected participants and their project. In the application form we ask them about their needs, their focal point in filmmaking and if they have preferences regarding what mentor they are being paired up with.
Leadership coaching is an integral part of the programme, which we informally call the "Don't be too soft skills". Many women are being told or even say about themselves, that most of all, they lack self confidence, negotiation skills and the maintenance of an adequate status in their national industry.
Therefore, with the support of experienced coaches, the participants work on their positioning, personal mission statement, leadership and communication skills, as well as their negotiation techniques. Apart from being highly advantageous for the definition of the participant's individual business brands, this also has a fantastic effect on the group building process and allows to develop a connection between the members of the group, funded by deep trust and bonds, leading to reliable and sustainable professional partnerships.

A special focus of ProPro is on projects for

young audiences

. In fact two alumni projects with that same focus just had huge successes:

Dani Purer

, a participant from 2015 with her project PARTY HARD DIE YOUNG, a young audience, horror genre film, produced in Austria, was released in March 2018 and reached more than 40.000 visitors.

Katja Dor-Helmer

, a former participant of the first workshop in 2015, has been awarded with the VAM-Prize for "Innovative Production Services" at Diagonale 2018 for the co-production of the young-audience film HELP, I SHRUNK MY PARENTS by Tim Trageser. The film was released in January 2018 and has more than 640.000 visitors in Germany and Austria.
Objectives of ProPro
Strengthen competitiveness of the participating producers
via mentoring from highly successful seasoned producers and amongst the group of peers
by encouraging women producers to think big and outside the box
support in development, especially regarding new formats and innovative ways of storytelling
expansion of production and company management skills
Utilization of new markets
Exploration of alternative models of financing
Contributing to a more gender-balanced and industry with diverse and innovative narratives
by encouraging gender awareness in women producers so that they sharpen their focus on the production of formats by women writers and directors
the creation of content with a gender-aware angle for young audiences
a focus on new formats
a focus on innovative storytelling
Building Sustainable Business structures
by offering support to deepen and diversify strategic planning
by encouraging sustainable networks and transnational cooperations
by offering advice about innovative business models
by providing valuable reliable contacts with mentors, experts and peers all over Europe
Background information
For a few years, the ratio between female and male producers, directors and screenwriters as well as the amounts of funds that are being spent on their projects, have been observed in various European countries. For example: A six-year study carried out by the 'European women's audiovisual network' across France, Austria, Croatia, Germany, Italy, Sweden and the UK found that "The vast majority of funding resources (namely 84%) go into films that are NOT directed by women"(1). The sad results of these studies show, that without quotas or affirmative action, the gap between funding for female and male filmmakers will remain unproportional.
In countries where the representation of women is regulated by a quota, all results show, that the quality and marketability of projects are increasing: In Sweden, e.g., that reached an equal gender balance in 2017, the figures went up in all aspects: Swedish films had more festival entries, awards and national as well as international sales than ever. Furthermore a study by the 'Centre for the Study of Women in Television & Film' found that "When women and men filmmakers have similar budgets for their films, the resulting box office grosses are also similar"(2).
To remedy the existing imbalance, ProPro attempts to strengthen women producers from all over Europe in various fields and support them in their careers, company strategies and regarding the quality and marketability of their film projects.
Sources:
(1) EWA's pan-European research study:
"Where are the women directors in European films? Gender equality report on female directors (2006-2013) with best practice and policy recommendations"
(2) "Women @ the Box Office: A Study of the Top 100 Worldwide Grossing Films" by Martha M. Lauzen, Ph.D.