ProPro 2023 Publication of selection and Save the Date for public events!
We are delighted to announce the selection of 17 international participants for the upcoming Pro Pro – Producers Programme for Women, a week-long international residential workshop taking place from November 27th to December 1st, 2023, in Vienna.
We are excited to see this diverse and talented group of women come together from Austria, Germany, Switzerland, South Tyrol, Bulgaria, Poland, Luxembourg and Hungary, who will join us for a week in Vienna. 7 participants chose the company planning focus, 10 are coming with a project: 3 documentaries, 1 comedy series, 1 historical drama series, 6 fiction features
Lola Basara (AT), Karin C. Berger (AT), Júlia Berkes (HU), Susanne Brandstätter (AT), Aurélie Brault (AT), Dorothea Braun (DE), Sabine Derflinger (AT), Barbara Eppensteiner (AT), Ralitsa Golemanova (BG), Andi G Hess (AT), Marta Krzeptowska (PL), Vera Lacková (AT), Adriana Montenegro (DE), Debora Nischler (IT), Franziska Sonder (CH), Catrin Strasser (AT), Emmanuelle Vincent (LU)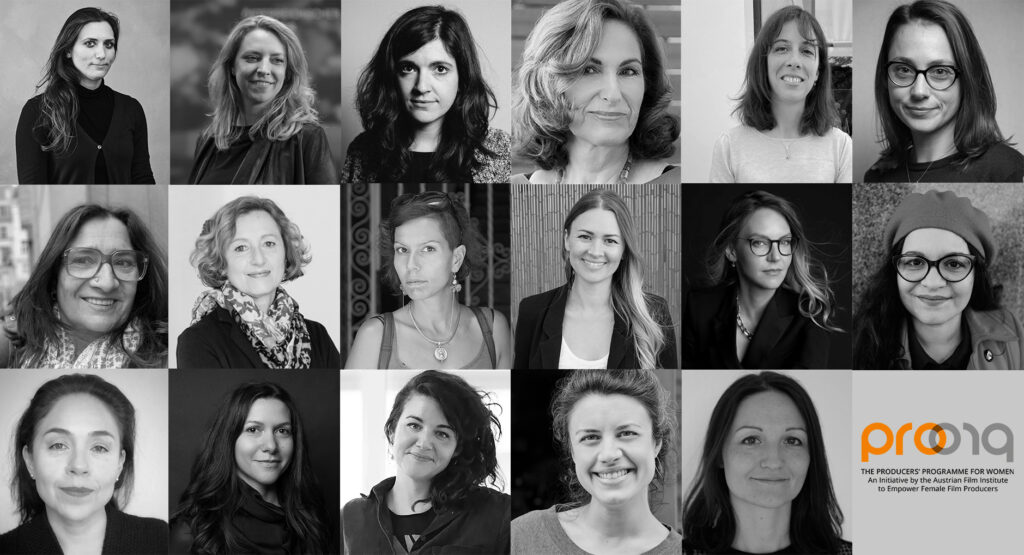 The collaboration between the Austrian Film Institute and our international partners makes it possible to assemble this international group of talented producers:
Film in Austria (AT), Hessen Film & Medien (DE), FOCAL Switzerland (CH), IDM Südtirol Alto Adige (IT), Film Fund Luxembourg (LU), Bulgarian National Film Center (BG),
Furthermore we wish to express our sincere appreciation to the Vienna Economic Chamber for their ongoing support of the ProPro Producers Programme for Women from the beginning. The workshop will be held again at the WKW Haus der Wiener Wirtschaft, and has been greatly enhanced by their gracious hospitality. We look forward to continuing this valuable partnership as we work towards making a lasting impact on gender equality in the film industry.
Save the date – November 27th to December 1st, 2023 at WKW Haus der Wiener Wirtschaft, Vienna
Stay tuned for the public event-programme which will be published soon! You will find interesting case studies, useful industry insights and inspiring keynotes by our highly acclaimed international experts. These events are open to everyone who is interested! Sign up here to receive the invitations!
Cooperation with University of applied Sciences BFI Vienna – bachelor degree programme Film, TV, and Media Production

We are happy to welcome three interns Marie Brandstetter, Helena Kisa, Viktoria Lukas, who will support us during the workshop week through the collaboration with the bachelor degree Programme Film, TV and Media Production of the University of applied sciences BFI Vienna. This partnership reflects our ongoing commitment to promoting young talent in the film industry, and we're excited to welcome fresh perspectives and energy to our team.
Congratulations to Júlia Berkes for her film "Explanation of Everything" opening this year´s Viennale.
We congratulate Júlia Berkes, Hungarian producer and participant of this year's edition of ProPro, for her film MAGYARÁZAT MINDENRE (EXPLANATION OF EVERYTHING), being selected as the opening film at Viennale 2023. The winner of Orizzonti Award for best Film by acclaimed director Gábor Reisz has gained international attention ever since.
Stay tuned and subscribe to our newsletter, follow us on Instagram and Facebook!
Thank you for your continued support in our mission to promote diversity and empower women in the world of filmmaking.
The ProPro Team – Esther Krausz, Tereza Šimíková, Klara Pollak, Hannah Delfauro – are looking forward to an inspiring and enriching event in Vienna, and we hope to see you there at the public events.