Keynote by Julia Pühringer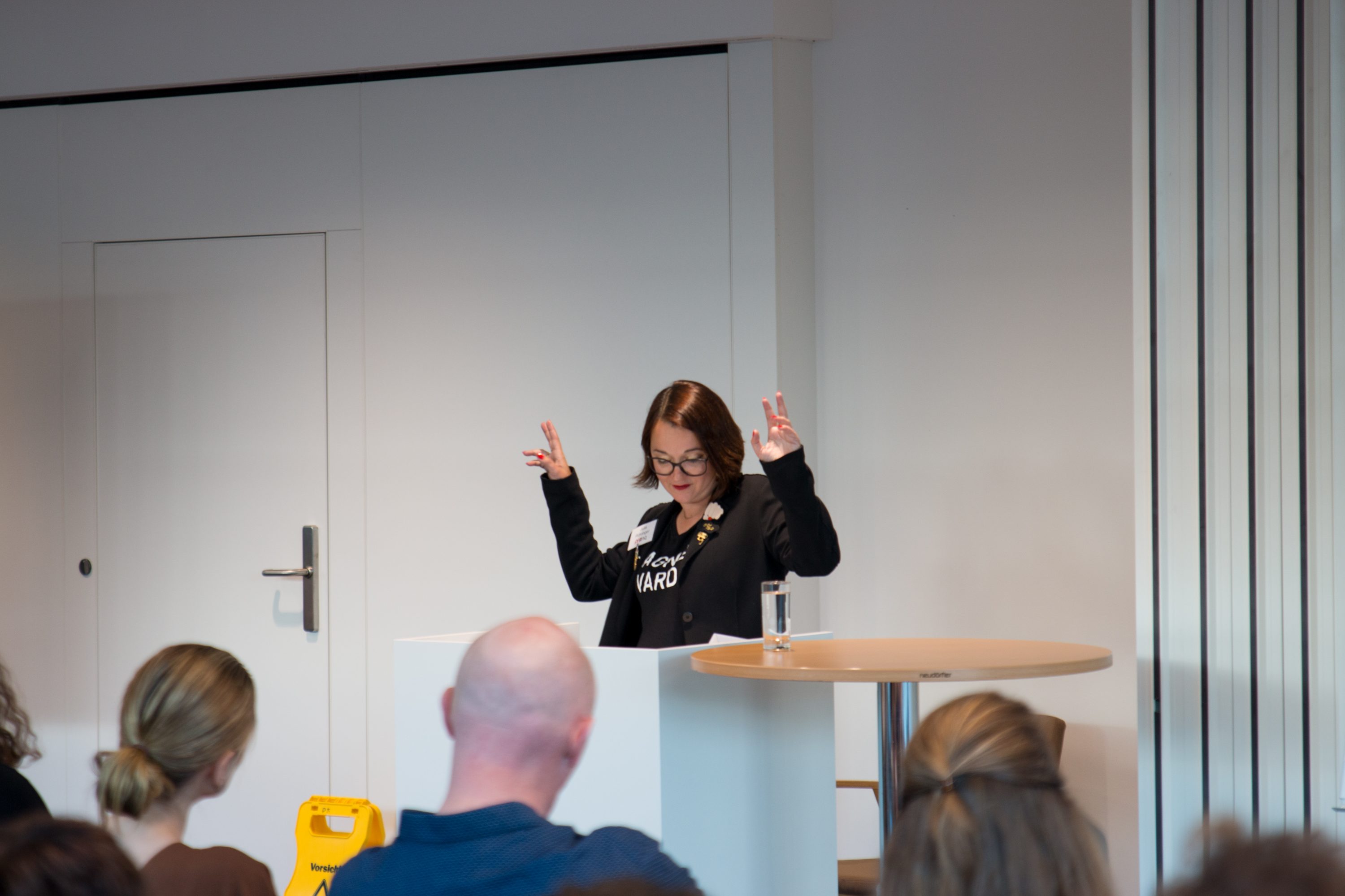 I came back from this year's edition of the Cannes film festival two weeks ago and I came back joyful and angry. This is the story of why.
My profession is a different one than yours: I am working as a film journalist, not in production. I'm the person consuming your work, trying to make sense of it, writing about it, trying to relate it to an audience. But although we have different professions in this business of dreams, imagination and ideas about the world, we all share one thing for sure: We all have spent big parts of or lives in the dark, watching movies in cinemas and on our couches, on big screens and small ones. We would not be in this room otherwise.
I am still irritated every time somebody says, "it's just a movie". My personal experience has always been the opposite. Just like books, movies taught me everything. They taught me how to be a girl and what to aspire to in being a woman. They taught me what is "manly" and what is cowardly. They taught me about wars and about countries, about fictitious planets and how to fight monsters, where not to hide in the dark and the manifold wonderful ways to hold a cigarette, wear a dress and look somebody in the eye – or not.
They taught me how to be seductive, how to be cool and what to wear when being abducted by a vampire. They taught me what to die for and how. The taught me how to lead a life. And probably they even taught me what to say during sex.
French movies taught me how to wear t-shirts with stripes, even more interesting ways of smoking, and how to look out on the sea tragically, emotionally wounded. They taught me that it is ok to be slapped in the face, even if you looked like Romy Schneider and the guy doing it was having hair on his back.
Rebecca Zlotowski, director of the film "An Easy Girl" which was screened in the Directors' Fortnight this year in Cannes, told me in our interview: "I used films in order to build my femininity. I know exactly what cinema did to us. We built ourselves from the construction of someone's dream". I also interviewed filmmaker Céline Sciamma in Cannes this year, the director of "Tomboy", of "Bande de filles", and of "Portrait of a Lady on Fire". What she said broke my heart because I could relate so much: "You know, as a woman, I spent my whole life loving films that hated me". "As women," she said, "we are never separated from our art, I am always a female artist. I just want to be a filmmaker."
Nina Menkes told me, she always thought it was because of her small low budget films, until the female winners of audience awards at festivals told her, that they, too, did not get calls from distributors.
This brings me to other, less obvious things the movies taught me when I started writing about films: They told me which stories are worth telling, repeatedly, and which ones you could put on the sidelines. The vague notion I had of a movie canon, made up from books about the "masters" and lists of films you had to see based on people with expertise (which I thought I hadn't) maybe told the loudest story and I did not hear it and then again I did: There were basically no important female filmmakers, only some exceptions from ancient history and maybe Jane Campion and some weird red-haired French director who made small films. I learned that films from men about men were films about the world and that films about women are "women films", I learned that men made masterpieces and women "intimate portraits", that men were geniuses and revolutionaries and women were thoughtful, emotional and sometimes flippant. Male filmmakers were "bold" and female filmmakers "smart" and sometimes they just could not handle their material and just like Baby Houseman says at the beginning of "Dirty Dancing", it did not occur to me to mind.
And then there was this evening in Cannes ten years ago when I really, really hated a film in competition and found it horribly simplistic and a colleague told me that if that was the case, I did not understand the film. And suddenly I minded so much. And then everything changed.
I started thinking who told me what films to like and why. I discovered the many ways I had internalized what to praise and what to dismiss. And suddenly I saw everything in a new light. All those ridiculous commonplaces that I had heard so often that they started to ring true, although my gut feeling had perhaps always told me otherwise. But then again women are used to have their gut feeling dismissed on a regular basis. That you had to separate the art from the artist. That an author's gender did not matter at all when writing characters. That a film by a needy guy about a fantasy woman was somehow miraculously more than that. That you should not lower the bar for women but men and their films were somehow magically above the bar.
Suddenly some "big" films became rather small. And some "small" films became big.
And there was no way back. It was scary at first and then it was wonderful.
A lot of unlearning had to take place and it is hard to unlearn stuff about the art you love the most and on which you based your ideas about the world. But then again: Movies teach you about the world as they teach you about questioning the world.
So, my way out became my way in. I started to invent ways to test myself and the way I thought, talked and wrote about films. Would I think or say that about a famous male filmmaker? Where did race and privilege come into play? Where were my blank spaces and blind spots? How come I did not know many female filmmakers? Hardly any filmmakers of colour? How could I and how could other people say they were experts, when they dismissed a whole body of work on a regular basis?
I realized what many people have realized before me: It always depends on who is doing the looking. Suddenly, female filmmakers were everywhere. They had invented cinema. "Alice Guy-Blaché is not just one of the first women directors. She is one of the first directors. Period." I heard in the documentary "Et la femme créa Hollywood" by Clara and Julia Kuperberg.
Alice Guy-Blaché started in France, she made films as early as 1893. As Melissa Silverstein, founder of "Women and Hollywood" posted after the premiere of the documentary "Be Natural – The Untold Story of Alice Guy-Blaché"by Pamela B. Green in 2018: "It was extraordinary. Another story of a woman being left out of history. Alice Guy Blache might actually be the first director ever; she directed the cabbage fairy in 1896. Multiple men took credit for her work. She spent many years trying to set the record straight and fucking male historians refuse to believe that she was so influential. She CREATED AND RAN a studio in Fort Lee, NJ. All the dudes who moved west to create Hollywood were her peers. She was an artist and a business woman."
In the 1920s there were lots of female filmmakers, producers and script writers in the USA, and some of them were moguls. Lois Weber was the highest paid director of the silent era. There was Mary Pickford who co-founded United Artists. There was Dorothy Arzner, who was the first woman to direct a sound film.
After the 1930s it took women five decades to get a foothold in an industry they co-invented. Sherry Lansing became the first female studio boss in the 1980s. Also, in Cannes present this year was Lina Wertmüller, who presented her hilariously funny and incredibly disturbing World War 2 comedy "Pasqualino Settebellezze / Seven Beauties" in the Cannes Classics section. It was this film with which she was nominated for an Oscar as the very first woman in 1977, in three categories, for Best Director, Best Screenplay and Best Foreign Language Film. It's a masterpiece. It took another 32 years until Kathryn Bigelow became the first woman to win an Academy Award for Best Director in 2009 for "The Hurt Locker". A black female filmmaker has not been nominated in the best director category so far.
I am naming all these names because it makes me furious to see how each generation of women has to find out about them anew. The names of the giants on whose shoulders they are standing on. Women in this business need to know who created it. They need to know that women were makers of fortunes and of careers. They discovered actresses and actors; they still do. Not only did Lina Wertmüller make Giancarlo Giannini a star with her films, remember when an unknown filmmaker called Debra Granik casted a relatively unknown actress named Jennifer Lawrence in her film "Winter's Bone" that got her an Oscar nomination? When Andrea Arnold casted Michael Fassbender in "Fish Tank"in 2009. When Kathryn Bigelow casted Keanu Reeves for "Point Break" in 1991? When Kathryn Bigelow casted Jeremy Renner for "The Hurt Locker", again with a resulting Oscar nomination? It was May West who fought for Cary Grant to be her partner in "She Done Him Wrong" in 1933. It was Slim Hawks, wife of director Howard Hawks, who discovered Lauren Bacall on the cover of Harper's Bazaar, where she was put by another woman, Diana Vreeland.
But you need to know these stories first. If you are never told stories of women's successes, society will doubt you and the most scary thing of all: You will doubt yourself.
This is exactly where you come in. You are discoverers of projects and of people. Projects and people that will shape what we will learn about the world in the future.
"Until now there was a tacit male quota that was never recognizable because power always claims to be natural and sensible and everything else is either an exception or even a scandal or a revolution", Jutta Brückner, a German filmmaker and professor of film, said in her keynote at a "Pro Quote Regie" panel. "A society that is not interested in the stories which its women have to tell is depleted and its image of itself is distorted", Jutta Brückner said. Let's focus on this, this distorted image. At an interview with filmmaker Ira Sachs in Cannes, he was asked if he would need to show a "post racial" world as an example. His answer was, "you know my world is a very mixed world and the film world maybe less so, so I try to be more honest to the world I live in". Let's all be more honest to the world we live in.
When it was announced that in this year's Cannes competition there were four films by female filmmakers, the headlines read like this: "Cannes Film Festival 2019 Lineup: Malick, Almodovar, Dardennes; Four Women Directors". The women's names were rendered invisible. Nobody wrote about "17 male directors".
The "four women directors" by the way were Mati Diop (she won the "Grand Prix" and is the first black female filmmaker with a film in competition at Cannes), the Austrian filmmaker Jessica Hausner ("Little Joe" won the price for the best actress), Céline Sciamma (she won best screenplay for "Portrait of a Lady on Fire") and Justine Triet with her film "Sibyl". Just for the record, I hope that the irony is not lost on further generations, that in 2019 we discussed whether four female filmmakers out of 21 would mean progress.
We all know it's not easy to be solidary if you are used to being the only woman at the table. But solidarity and complicity are our biggest powers. Know your female ancestors, know their body of work. Give credits to others and give yourself credit. When I told Ursula Wolschlager, who created the ProPro programme with Esther Krausz, that I was very happy that we met in life, she almost shouted: But this did not happen out of thin air. We did not meet by coincidence. We met because of our work. We did this ourselves. And you know what? She was right! We have to create these realities ourselves. This is one of those spaces.
We have to do it all ourselves. But that also makes it ours. We need to call out bullshit. We need to support each other. The system may be rigged against us, but this very fact also makes us more powerful. As women in this world, we were taught how men thought in a myriad of ways, and that our voices did not matter so much but yes, that things were fine this way. So we speak two languages to begin with. And in the movies, this is an incredibly powerful resource. We need to be more honest with the world we live in. That is our responsibility – and everybody else's, too. Believe in your own expertise. Be visible. Be loud. Be allies for other women, for people who do not have a voice. Look for women to work with. Ask other women how the fuck they did it. Nobody ever asks them. It's a great start of a friendship.
Movies are about feelings, but for a whole variety of reasons. Yes, I cried when I saw "Wonder Woman" for the first time and my colleague sitting next to me cried too. They were tears of relief and tears of rage: I had never seen women like that in a cinema before, I, the fucking film critic, a group of female heroes, and finally, in 2017, when I was 39, the camera was not looking at their boobs.
What a person would I have become had the movies told me different stories as a child, as a girl, as a young woman? I was no longer sure if smoking really was the most unhealthy thing the movies have taught me.
It is up to us to rethink our way of thinking about movies. Find accomplices in changing the narratives. "I am not a politician" a famous filmmaker said in Cannes. But what we see and what we do not see is politics. Art is also attitude. Entertainment does politics quite efficiently. Even when the Zombies attack, the women stay at home with the kids while the guys do the hunting.
I want my generation to be the last generation thinking we've never been out there. Because we always were. "Cinema repairs the world", filmmaker Rebecca Zlotowski told me. Let's start doing our job. Be makers and discoverers of things and films and people. It's just us in the dark with the pictures that shape our world. It's an incredible power. Let's use it.