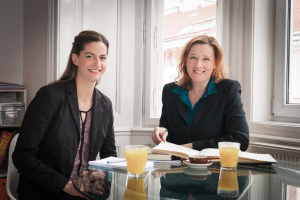 ProPro – The Producers Programme for Women, an Initiative of the Austrian Film Institute to empower female film producers had its first session in November 2015. Due to the great success amongst participants and a high resonance in the film industry, we're very happy that the Austrian Film Institute is hosting the second round of ProPro in March 2017. As a great novelty, we are taking a first step in our internationalisation thanks to the cooperation with our partners FOCAL and IDM: Sixteen select Austrian, Swiss and South Tyrolian women producers will join in to be supported by international high-caliber producers and other experts who will mentor them with hands-on advice for their film projects, coaching on their leadership skills, and encouragement to think big in their career planning and strategies for success.
We have several Oscars, BAFTAS, Palmes d'Ors and European Film Awards condensed in the team of cool mentors, experts, and panel guests we could convince to come to Vienna and empower our participants: Ewa Puszczyńska (Ida, PL), Sylvia Stevens (Faction Films, UK), Gabriela Bacher (What a Man, DE/USA), Kate Leys (script editor, UK), Bongiwe Selane (Happiness is a Four-Letter Word, SA), Els Vandevorst (Brimstone, NL), Katrin Schlösser (Schlafkrankheit, DE), Valerie Fischer (Tulpan, CH), Andrea Willson (Vaterfreuden, SMS für Dich, DE/USA) and film financing expert Linda Beath (Ideal Filmworks, IT/CAN) are among them. Our 2017 leadership coaches are: Sonja Zant, Cornelia Jaksche and Christine Bauer-Jelinek.
Many events are open to the public, so more industry protagonists can benefit. From "Producing on Instinct" to "The Core of Stories" and current co-production issues to the question of how women's involvement in TV can be increased: The lectures, talks, case studies, and networking events are meant to provide new know-how, create insights, and spark discussions.
We wish the visitors, and especially the sixteen participants, a productive week full of enriching input, useful contacts, inspiration, and brave new ideas.
The programme is meant to support, empower and inspire!
Ursula Wolschlager and Esther Krausz
(Concept and Programming)