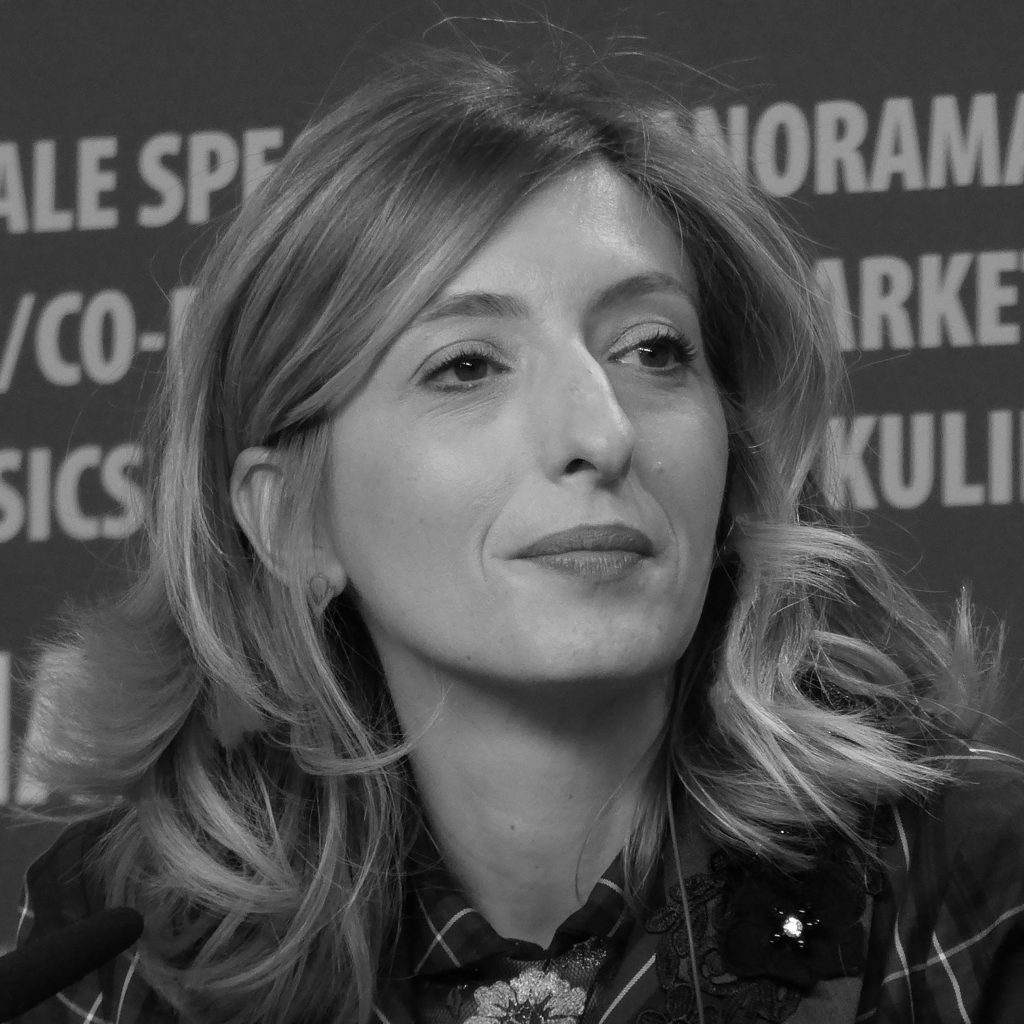 Marta Donzelli was born in Turin and now lives and works in Rome. After a PhD in Philosophy, in 2004, she established Vivo film with Gregorio Paonessa.
From 2004 to 2014 she worked as Head of the Editorial Secretariat at Donzelli Publishing House, where she is still a Member of the Editorial Board. She is currently the Head Professor of Cinema at Scuola Holden in Turin for the class of 2018-2019 and she has been a tutor in many workshops, including Biennale College. She has also been a member of the Jury at Rotterdam Film Festival, Karlovy Vary Film Festival and Turin Film Festival.
For her work at Vivo film she has been nominated twice as Best Producer to the David di Donatello awards, for Le Quattro Volteby Michelangelo Frammartino (2010) and for Nico, 1988by Susanna Nicchiarelli (2017). She has also been nominated twice as Best Producer to the Silver Ribbon Awards for Nico, 1988and for Daughter of Mineby Laura Bispuri (2018); while she won the Ciak d'Oro as Best Producer for Le Quattro Volte.
VIVO FILM PROFILE
Vivo film, established in Rome at the beginning of 2004 by Gregorio Paonessa and Marta Donzelli, is an independent production company with a catalogue of over 40 films, presented and awarded at the most prestigious festivals worldwide.
Vivo Film's credits include Michelangelo Frammartino's LE QUATTRO VOLTE, Europa Cinemas Label Award at Cannes' Directors' Fortnight in 2010; Emma Dante's A STREET IN PALERMO, which won the Best Actress award at the Venice Film Festival in 2013; SWORN VIRGIN and DAUGHTER OF MINE by Laura Bispuri, both premiered in Competition at the Berlinale in 2015 and in 2017; Andrea De Sica's CHILDREN OF THE NIGHT, Silver Ribbon Award for Best New Director in 2017; NICO, 1988 by Susanna Nicchiarelli, awarded as Best Film Orizzonti at the Venice Film Festival in 2017 and with 4 David di Donatello.
In 2019, Vivo film presented two films in the Panorama section of the Berlinale: DAFNE by Federico Bondi and FLESH OUT by Michela Occhipinti. It is also currently committed in the post-production of SIMPLE WOMEN by Chiara Malta and SIBERIA by Abel Ferrara and in the development of, among others, MISS MARX by Susanna Nicchiarelli.
VIVO FILM SELECTED FILMOGRAPHY
Siberia by Abel Ferrara (Italy/Germany/Mexico in post-production)
Simple Women by Chiara Malta (Italy/Romania in post-production)
Flesh Out by Michela Occhipinti (Italy, 2019, 94') 
Dafne by Federico Bondi (Italy, 2019, 94')
Daughter of Mine by Laura Bispuri (Italy/Germany/ Switzerland, 2018, 100')
Lorello e Brunello by Jacopo Quadri (Italy, 2017, documentary, 86')
Nico, 1988 by Susanna Nicchiarelli (Italy/Belgium, 2017, 93')
Looking for Oum Kulthum by Shirin Neshat (Germany/Austria/Italy, 2017 90')
Children of the Night by Andrea De Sica (Italy/Belgium, 2016, 85')
Sworn Virgin by Laura Bispuri (Italy/Switzerland/Germany/Albania in association with Kosovo, 2015, 90')
Innocence of memories. Orhan Pamuk's Museum and Istanbul by Grant Gee (UK/Ireland/Italy, 2015, 97')
A street in Palermo by Emma Dante (Italy/Switzerland/France 2013, 94') 
Le Quattro Volte by Michelangelo Frammartino (Italy/Germany/Switzerland, 2010, documentary, 90')
Confini d'Europa a series by Corso Salani (Italy 2006-2007, 6×52') Confini d'Europa #3 Imatra
Il mio paeseby Daniele Vicari (Italy 2006, documentary, 113')